Payment terms
Our offer of secure payment
For your payments you have the choice between two means of payment.
Credit card payment
The safety of your on-line transactions is for us a priority. That is why we use the platform of secure payment SKRILL.
All the phases of payment is completely coded and protected. The used protocol is SSL coupled with electronic banking. It means that the information tied up with the order and the credit card do not circulate on the internet.
SKRILL does not keep credit card references after having passed the transaction of payment to the bank of the storekeeper. So, nobody has access either in IT, or in a printed way to your credit card informations.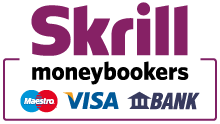 Payment by paypal
Our secure payment offer uses the PAYPAL module.
All the transactions are directly made on the coded server ( ssl ) of PAYPAL and never pass in plain language on the network. The payment is directly made with the bank
We never have access to your bank account ID. That why you have to repeat them for each new deal you make on our website.
You can pay with your Visa credit card / MasterCard or of your PAYPAL account.
PAYPAL is on-line solution proposed by the Ebay Group that's, used by 150 million Internet users in the world.
You can settle by using the balance of your account (of your auctions for example), or without possessing singing in by supplying your banking account number